Natural Plant Products (NPP) has focused on botanicals with novel triglycerides, functionality, and distinctive skin feel for over thirty years.
Our products are viable natural alternatives to synthetic emollients thanks to their luxurious texture, lightweight emollience and long-lasting oxidative stability. The long-chain fatty acids in our oils, used either alone or in combination with other natural oils, extend the oxidative stability of formulations for naturally based personal care and beauty products.
Click the graph to enlarge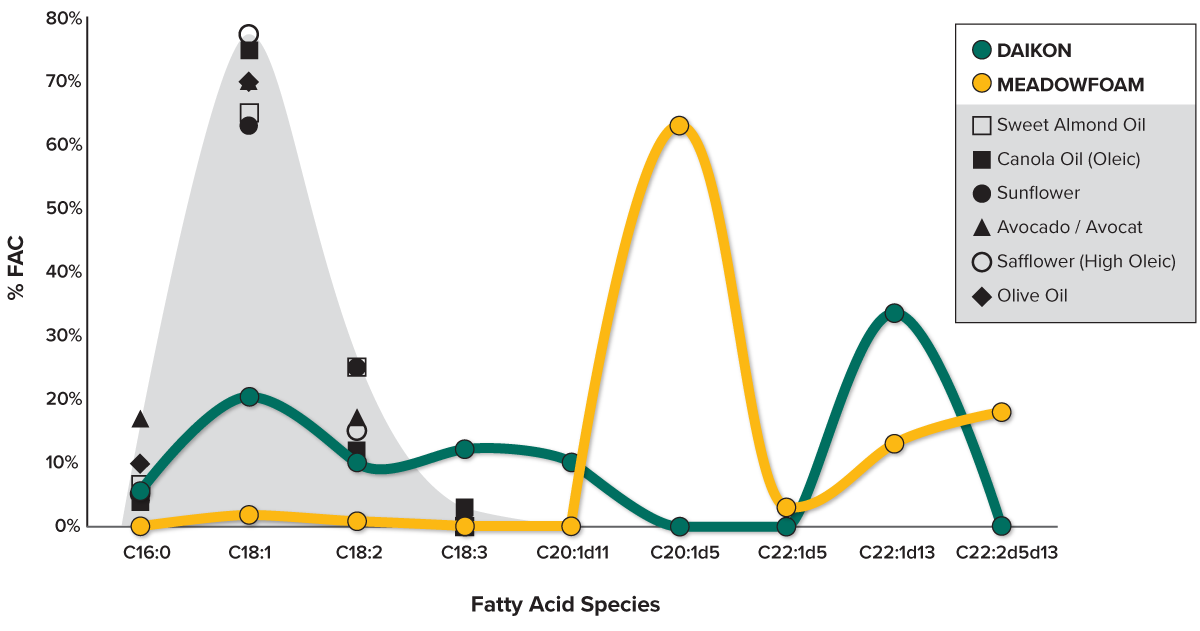 Our applications library features formulations for face, hair, skin and lips using our ingredients. Jumpstart your development work by starting with one of these on-trend formulations, all developed and tested by our chemists in our Applications Lab.
These guide formulations, featuring our natural emollients, offer formulators the opportunity to provide discerning consumers with a line of products that have a delicate skin feel signature and unique textures — all leveraging natural alternatives to synthetic emollients.
Select a language for the documents:
Industry Uses for Our Ingredients
Skin Care:
Skin Cream • Massage & Body Oils • Cleaners • Hand/Nail Creams • Balms • Butters • Face Masks • Face
Scrubs • Serums • Sunsticks • Moisturizers • Lip Balms • Eye Creams
Hair Care:
Shampoos • Hair Conditioners • Hair Treatments • Scalp Scrubs • Serums • Beard Oils
 Cosmetics:
Lipsticks • Mascaras • Eye Liners • Color Powder Cosmetics • Liquid Foundations • Pressed Powders
Select a language for the documents:
Brands Using Our Products