Remember lipstick?  Us, too.  Boy, have we missed it.  And, apparently, we aren't alone.
Online Lipstick Searches Soar
After a major slump in lip cosmetics thanks to COVID, HAPPI reports that according to Trendalytics, searches for long-wear lipstick grew 1,135% year-over-year, with shimmer lip gloss up 889%!  That's great news for the industry and lipstick lovers everywhere.
SPATE also recently reported on this surge. Just look at SPATE's reporting on 2021 compared with 2020 US lipstick searches!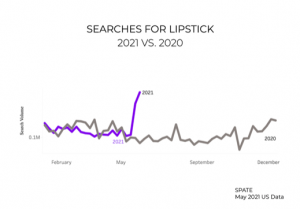 SPATE further reports that "Consumers have already let their hair down and now the bold lips are joining the party, so this may be the perfect time to continue innovating in new lip forms beyond the traditional lipstick. With the continued trend of health and self-care, there's an opportunity for hybrid products that showcase a bold lip with healthy new benefits — consider integrating top trending skincare ingredients into your lipstick formulations."
We have just the ingredient in mind for your next lip formulation: Meadowfoam Seed Oil.
Meadowfoam Seed Oil Lipstick Study
Meadowfoam Seed Oil was recently included in a study completed by the University of Toledo, on pigment dispersion in lipsticks. The aim of the project was to compare meadowfoam seed oil as a pigment dispersant for lipsticks to common dispersants castor oil and octyldodecanol."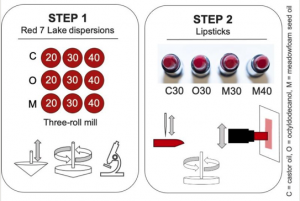 The study concluded that "Meadowfoam seed oil's performance was qualitatively and quantitatively similar to castor oil and octyldodecanol."  Exciting news as Meadowfoam Seed Oil is considerably more oxidatively stable than castor oil and a wonderful option for formulators looking for natural solutions for lipstick formulations. Read more about this study, in a paper recently published about it in the International Journal of Cosmetic Science.
Guide Formulations for Lips using Meadowfoam Seed Oil
We love Meadowfoam Seed Oil for lip applications and have developed some Guide Formulations to help jump-start your lip innovations.  A longtime favorite is our Oregon Mint Vegan Lip Balm. This unusually stable formulation offers just the right sheen and moisturization with a lovely Oregon mint fragrance. Getting lips conditioned and ready for all that lovely lipstick is a breeze with our Lip Scrub and Moisturizing Mask. This rich, balmy lip scrub buffs away dry skin and conditions lips, leaving them supple and perfectly prepped for your favorite lip products. Another great option is our Nourishing Botanicals Tinted Lip Shine Oil which offers long-lasting moisturization with a hint of color and sheen without lip-gloss stickiness.  More about these formulations and more can be found in our FIELD GOOD Lip Wellness Guide.
So, we wish you happy formulating and can't wait to try out your new lip formulations!